Book image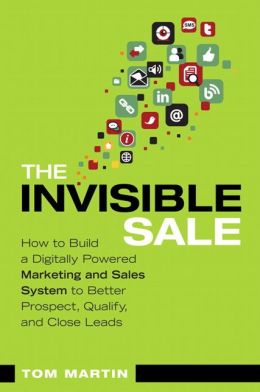 This week I read a new book called The Invisible Sale by Tom Martin, founder of Converse Digital and a longtime advertising agency professional. I first heard Tom speak earlier this year at the Solo PR Pro Summit in Atlanta, in which he talked about Painless Prospecting.  That presentation became part of his new book. Despite its name, I highly recommend that PR Pros read this book.
What is the focus of The Invisible Sale?
This book focuses on using your website in a more meaningful way to empower the "self-educating buyer" with helpful information, in the form of blog posts, white papers and videos, to name a fe. Over time, The Invisible Sale advocates building a digital powerhouse to prospect and qualify leads and clients. Tom has figured out a system for doing all of this while running his own agency.  He has used it for himself and for his clients.
I strongly believe it should be on the bookshelf of every public relations pro. It will change how you think about marketing your own business. It will change how you counsel your clients. Here's why I liked this book.
Uniting Online Selling and Social Media
First of all, The Invisible Sale takes two disciplines within marketing — online selling and social media, and unites them into the useful compatible tools that they should be.  When I work with clients to develop social strategies, they always want to know if their efforts are paying off.  They want to know how this investment in time, money and resources will actually help their business.  Far too many digital strategists will say "don't ask questions, just get in the game."  Now, with Tom's book, you have a blueprint for uniting and tracking these two disciplines together.
 Telling, Not Selling
The second thing I liked about Tom's book is he talks about helping instead of selling.  This spirit of generosity –giving away what you know — is what attracted me to network in the digital world back when HARO was a daily email to a couple of hundred people and Twitter was where you could talk about issues, trends and new things. It is the main premise on which the Rackspace social media customer service team got its start under the leadership of Rob LeGesse. Now that there are millions more people "marketing" in the space, the spirit of generosity is often lost.   Tom pulls us back there.
It's STILL About Your Network
The third thing about Tom's book which I found most valuable is that he emphasizes over and over again this very salient point:  it's about building a network.  Tom doesn't suggest that you abandon traditional methods of developing new clients (at least not right away!)  and this is the key takeaway for public relations pros.  Tom advocates developing volumes of content for current and potential future customers with each piece targeted to their needs.
Why PR Pros Should Understand this Book
Here's the real opportunity for PR pros:  we are perfectly positioned to develop this type of content. Many of us are the "writers" in an organization so turning the raw materials of our intellectual property into helpful materials is what we thrive on. If you are a solo PR Pro or part of an agency, you should be asking yourself:  What have we done for our clients that WE or THEY could benefit from? And then get to work using Tom's system to build your business.
Tom's got the business track record to back up everything in his book:  his Converse Digital firm has experienced double digit growth year over year during the worst recession of our time.  Need I say more?